Do I need a 2nd Videographer?
A Guide to Your Package Choice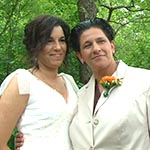 Key Differences between a 1 and 2 shooters....
Our Basic Package - 1 Videographer is an excellent video, comprehensive in detail, and a good choice for those seeking documentation (and much more) at a reasonable price point. For those looking to take a bit more from their day, here are some things to consider....
Groom's Preps
A second shooter allows for concurrent coverage of Bride's and Groom's Preps.


Expanded Ceremony Coverage
A second shooter at your ceremony allows us to offer additional perspectives which usually means more reaction shots, and more close-ups, resulting in a more intimate result.



The image on the right would be the shot from a "Basic" package - the "Basic Plus or Standard would provide both.


Expanded Reception Coverage
Certain moments are enhanced by a 2nd perspective - such as your grand entrance and toasts. A second perspective again allows for more close-ups and reactions, as well as providing mcuh more footage to use when crafting the final film.


Additional Reasons
With the Basic Package it is a crew of one, meaning that all time spent setting up and breaking down is done by the shooter. Less time is spent shooting as a result.

Overall, more angles, and more footage means more details captured, and a richer final result.






Get In Touch!

We'd love to hear all about your plans...please be sure to include your date and wedding location...