About Weddings & About Us
It's about people - yours
With over 700 "I do"s captured, Starlight Wedding Films has preserved beautiful moments across the Hudson Valley and beyond. We've worked in dozens of venues ranging from stately New York City ballrooms to picturesque farmlands. We are experienced in working seamlessly with other vendors to ensure smooth and complete coverage of your day. We know every angle, every look, and every small detail that may go unnoticed. In today's world where video capability lies in the palm of every hand, don't rely on your loved ones to capture the "big moments" - we'll be there to preserve the small ones too.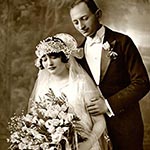 Your wedding is a unique moment in time when all those near and dear to you will be present - it may be someone's first wedding, and someone's last. We feel that along with capturing the joy of the big moments, we need to capture the faces of those important enough to you to be invited to your wedding.

We entered the wedding film industry with a somewhat different approach then our colleagues and competitors. Our first love has always been of history, stemming from timeless portraits hanging in our home of family weddings from long ago.

One such portrait is this inset. These were my grandparents - he made the wedding dress. He was gone long before I came along, but I always tried to imagine that wedding, and how wonderful it would be if a video existed where I could see all these wonderful people in the prime of life. When asked to do my very first wedding I felt a great honor, and great resposnsibilty, it felt very special then, and is just as special many weddings later.

Check out our
Packages
to see what will work best for you....
"The video was so beautifully done and really captured my wedding day so well. For me this was an essential thing to have for my wedding because that day flew by and having the video helped me to not only relive it but to see all the moments I missed. I wouldn't have had this if it wasn't for Bill."
Leanne H.
Get In Touch!
We'd love to hear all about your plans...please be sure to include your date and wedding location...