LGBTQ+ Weddings....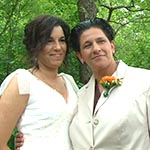 We're honored to share in your joy....
In 2011, shortly after NY made same-sex marriage legal, we filmed our first. After a celebration that was overdue for generations, we've since been honored to work with same-sex couples across the Hudson Valley.
"When we were planning our wedding , we had friends, and recommendations for every vendor necessary. DJ, florist, Photographer, etc. The only thing we had to shop for was a videographer. We recently moved to upstate NY and were not sure of any videographers in the area. So we did a little research and saw good reviews for Starlight Wedding Films, and figured, hey, let's give it a shot.

I talked to Bill a few times on the phone and he was very professional, informative , and knowledgable . We set up a date and time to meet and when we did, we knew almost immediately he would be our choice. We were not certain how the perception would be from someone who had never met us about videoing a same sex wedding. Bill made us feel extremely comfortable and even showed us his work of another same sex wedding he recorded.

We didn't need to meet with anyone else after seeing his work. Bill made sure to stay n touch with us periodically leading up to our big day. He made us feel very confident and secure about everything . Other than asking some questions of what we wanted, he had everything covered and added some suggestions that I wouldn't have ever thought of.

Bill showed up early the morning of the wedding and was there for every moment, without us even realizing or tripping over him or his assistant. The day was phenomenal. When we got our DVDs we cried from beginning to end. The angles, the music, the close ups.....they were all perfect. Bill and starlight were as important as anyone that day, and they captured every important and emotional minute of our big day.

I would highly recommend Starlight Wedding Films to anyone looking for a true pro, as well as a genuinely nice guy. ."
Valerie & Charlotte (from their review on Wedding Wire)
Get In Touch!
We'd love to hear all about your plans...please be sure to include your date and wedding location...